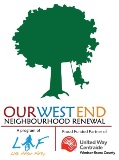 Posted October 11, 2017
This initiative is funded through the
United Way's Neighbourhood Renewal Strategy.
Life After Fifty is the host agency, and the Our West End (OWE) initiative is now officially a program of Life After Fifty. As a resident of Windsor's West End, LAF is proud to support the neighbourhood revitalization.
We are currently working on our official website and you can always follow some of the great work we are doing in the community on
Twitter
and
Facebook
! Look for Open Streets, Farmers Market, Community Gardens and Mural Painting projects all helping to make the West End a better place to live, work, play and be a part of!
https://twitter.com/ourwestend
https://www.facebook.com/ourwestend