Employment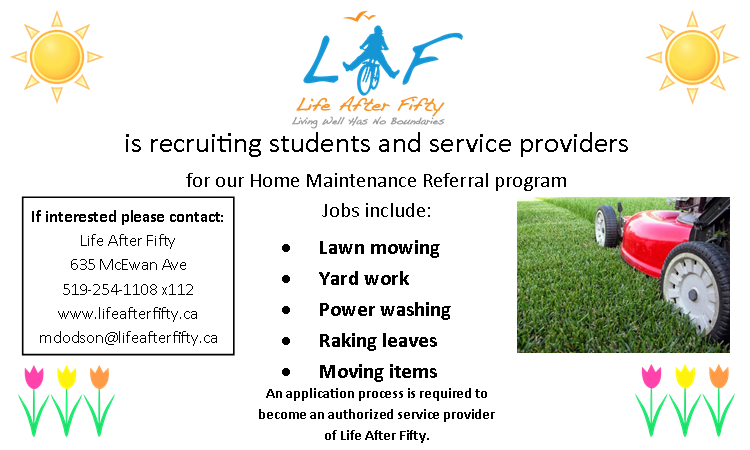 Position: Custodian
Status: Regular Part-time
Reports to: Executive Director
The Custodian is responsible for ensuring the cleanliness and maintenance of the facility, inside and outside, including completing minor repairs and the identification of major repairs that could require a contractor.
Full job description
Position: Outreach Coordinator
Status: Contract Part-time
Reports to: Director of Programs & Services
The Outreach Coordinator is responsible for the planning, delivery and evaluation of outreach programs for the Our West End Initiative within the guidelines of the United Way-approved work plan. The primary goal within the Our West End initiative is to engage West End residents in activities, priority-setting and decision-making that will have long term impact on their neighbourhoods. In addition, the Outreach Coordinator is responsible to enhance and establish linkages between community groups and agencies throughout the West End community.
Full job description
Position: Program Assistant
Status: Regular Part-time (0.8)
Reports to: Program and Wellness Coordinator
The Program Assistant is part of a team that is responsible for the planning, delivery and evaluation of all special events, activity, craft and wellness programs.
Full job description
Position: Bookeeper
Status: 6 Week Contract Position - flexible part time
Looking for a self-motivated independent individual that can handle accounts payable, accounts receivable, process and record in the accounting system all online payments, deposits and membership dues, balance and deposit cash receipts, prepare monthly bingo reports for the City of Windsor and maintain weekly 50/50 draw documentation for reporting to the gaming commission. The successful candidate will have a minimum of 2 year post-secondary diploma in Business Administration majoring in Accounting. This position could potentially become a full-time permanent position with full benefits and a broader range of responsibilities at two community agencies in approximately 2 months' time.


LAF is committed to reflecting the diversity of the communities it serves.
We welcome and encourage applications from all qualified candidates. We thank all applicants for their interest; however, only those selected for an interview will be contacted.
Submit cover letter and resume to jnixon@lifeafterfifty.ca by Monday, July 23, 2018 at 4:00pm.


CERTIFIED FITNESS INSTRUCTOR PART-TIME
Life After Fifty is looking for energetic individuals to lead fitness programs for people age 50+ at both our East Side and West Side locations.
We requuire a Seniors' Fitness Certified Instructor to lead the Monday, Wednesday and Friday classes (Each class is one hour).
For further details on the position and/or to apply:
Contact Suzanne at 519-254-1108 ext. 130. Please forward your resume to Suzanne Poirier, spoirier@lifeafterfifty.ca.
CLICK HERE
RECRUITING HOME MAINTENANCE SERVICE PROVIDERS
FOR REFERRAL PROGRAM
Life After Fifty operates a Home Maintenance Referral Program that provides indoor and outdoor home maintenance services to frail older adults which allow them to live at home safely and for as long as they are able. We are currently recruiting service providers to provide the following services:
Yard Maintenance (lawn-cutting, snow removal, etc.)

Odd Jobs Indoor and Outdoor (minor repairs, deep cleaning, changing furnace filters, etc.)

Professional home services (with a discount offered for our clients)
Service providers can be individuals, retirees, students or businesses. The Home Maintenance Referral Program sends referrals to registered providers. An application process is required to become a Life After Fifty-authorized provider. For more information about how to become a registered provider in the Home Maintenance Referral Program, call 519-254-1108 x6.
---
RECRUITING STUDENTS
​LIKE TO WORK OUTDOORS?

​LOOKING TO MAKE SOME EXTRA MONEY?

​WANT TO HELP A LOCAL NON-PROFIT?
LIFE AFTER FIFTY (635 McEwan, Windsor) IS RECRUITING STUDENTS interested in earning $12/hr to shovel snow, rake leaves, and mow lawns for vulnerable seniors in our Home Maintenance Program. It's the perfect part-time job. You run your own business and set your own hours. We send you referrals from our clients who need the service. The more positive client feedback you receive, the more referrals you will earn. You stay fit and make a little money while helping someone stay in their home. It is a win-win. An application process is required to become an authorized service provider of Life After Fifty. For more information about the Home Maintenance Program, call 519-254-1108 x6.
---
---
Recruitment/ Employment Accommodation
In accordance with the Ontario Human Rights Code and Accessibility of Ontarians with Disability Act (AODA), Life After Fifty is an equal opportunity employer committed to providing:
Fair and accessible employment practices

Individualized accommodations to support individuals with disabilities

An Inclusive and accessible environment for all persons

A diverse workplace
Should you require accommodation during the recruitment process, please contact the Executive Director at (519) 254-1108 or info@lifeafterfifty.ca
Applicant information is collected under the authority of the Freedom of Information and Privacy legislation and will be used solely for the purpose of candidate selection.