Employment
RECRUITING HOME MAINTENANCE SERVICE PROVIDERS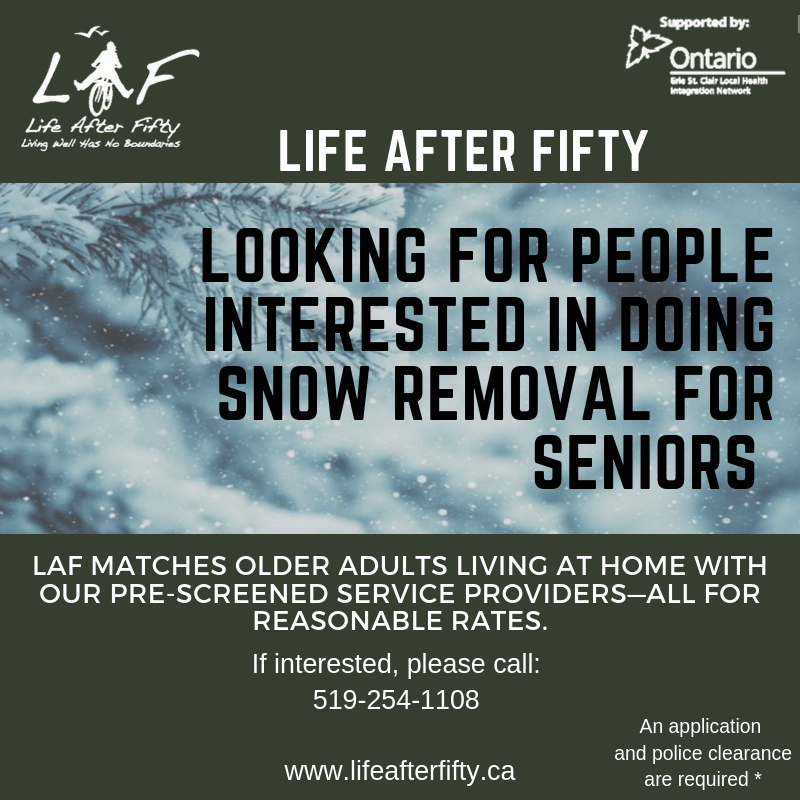 FOR REFERRAL PROGRAM
Life After Fifty operates a Home Maintenance Referral Program that provides indoor and outdoor home maintenance services to frail older adults which allows them to live at home safely and for as long as they are able. We are currently recruiting service providers to provide the following services:
Yard Maintenance (lawn-cutting, snow removal, etc.)

Odd Jobs Indoor and Outdoor (minor repairs, deep cleaning, changing furnace filters, etc.)

Professional home services (with a discount offered for our clients)
Service providers can be individuals, retirees, students or businesses. The Home Maintenance Referral Program sends referrals to registered providers. An application process is required to become a Life After Fifty-authorized provider. For more information about how to become a registered provider in the Home Maintenance Referral Program, call 519-254-1108 x6.

---
RECRUITING STUDENTS
​LIKE TO WORK OUTDOORS?

​LOOKING TO MAKE SOME EXTRA MONEY?

​WANT TO HELP A LOCAL NON-PROFIT?
Life After Fifty (635 McEwan Ave, Windsor) is recruiting students interested in earning $14 an hour to shovel snow, rake leaves, and mow lawns for vulnerable seniors in Windsor through our Home Maintenance Referral Program. An application process and police clearance (ages 18+) is required. For more information please call 519-254-1108.

---
Recruitment/ Employment Accommodation
In accordance with the Ontario Human Rights Code and Accessibility of Ontarians with Disability Act (AODA), Life After Fifty is an equal opportunity employer committed to providing:
Fair and accessible employment practices

Individualized accommodations to support individuals with disabilities

An Inclusive and accessible environment for all persons

A diverse workplace
Should you require accommodation during the recruitment process, please contact the Executive Director at (519) 254-1108 or info@lifeafterfifty.ca
Applicant information is collected under the authority of the Freedom of Information and Privacy legislation and will be used solely for the purpose of candidate selection.