Employment
Regular Full-Time
35 Hours per week
Life After Fifty (LAF) is a charitable non-profit organization and designated Seniors Active Living Centre providing programs and services for adults fifty and over. We have been a consistent source of seniors programming in our community since 1962.

Regular weekly programs and services fall under three core categories: Health and Wellness ("Be fit!"), Skills Development and Hobbies ("Be well!"), and Personal Connections ("Be social!"). These programs and services are offered through on-site programming, virtual programming, outreach to the community, and through our social prescription project.

The Executive Director is responsible for the successful leadership and management of Life After Fifty according to the strategic direction set by the Board of Directors.

Responsibilities include:
Monitor and execute agency strategic plan in conjunction with Board of Directors, staff, members, and key community stakeholders

Pursue donations and fund-raising dollars via sponsorships, community partnerships, social enterprises, gaming, and private donors

Negotiate mortgage and rental, insurance, funding, and other agreements

Responsible for human resources functions including hiring, retention, succession planning, termination, performance improvement plans, and conflict resolution

Oversee maintenance and improvement of physical facilities (renovations, outside contractors, obtain quotes) following internal procurement policies and procedures

Approve, and monitor operating and capital budgets

Develop and revise policies and procedures in accordance with current legislation and ensure compliance throughout the agency via staff education

Guide staff members' skill development and cultivate a positive, cohesive team culture
Submit resume to info@lifeafterfifty.ca by Monday, August 16
LAF is committed to reflecting the diversity of the communities it serves. We welcome and encourage applications from all qualified candidates. We thank all applicants for their interest; however, only those selected for an interview will be contacted.
Vision: Leading the way to vibrant and healthy lives
Mission: Enriching the lives of older adults by providing opportunities to be fit, well and social
Values: Inclusivity, Responsibility, Self-determination, Collaboration
---

WE'RE HIRING A PROGRAM ASSISTANT!
Part-time Contract – 28 hrs/week
This role is a contract position until February 11, 2022. The suitable candidate will have experience in program planning in an appropriate setting, in addition to the following:
The Program Assistant is part of a team that is responsible for the planning, delivery and evaluation of virtual, onsite and community wellness programs. The assistant's role is to provide general support for the delivery of these programs.
Due to changing pandemic restrictions, our program delivery model is frequently adjusted. As such, the responsibilities of this role may be altered accordingly.
Tasks will include but are not limited to phone calls to clients, data entry, on-site program setup and take-down, reception coverage, etc.
This role may also involve working at either of our two locations or virtually.
Post-secondary degree or diploma in a related field
Demonstrated experience working with older adults
Accuracy in data entry and electronic communication is required
Ability to converse in English, over the phone, in a clear and understandable manner. Ability to speak languages aside from English considered an asset
Ability to use a multi-line phone
Experience using client management databases is considered an asset
Excellent verbal and written communication skills
Proficient in Microsoft Suite programs, especially Outlook, Word and Excel
Ability to use Canva is considered an asset
Experience in creating content for social media platforms (Facebook, Twitter) considered an asset
Vulnerable Sector police clearance required
Physically able to bend, stretch, push, pull, and lift equipment for programming set-up as required
LAF is committed to reflecting the diversity of the communities it serves. We welcome and encourage applications from all qualified candidates. We thank all applicants for their interest; however, only those selected for an interview will be contacted.
Submit cover letter and resume to jcadarette@lifeafterfifty.ca by 4:30pm, Tues. July 27, 2021. For full job description, please click here.
---
RECRUITING HOME MAINTENANCE SERVICE PROVIDERS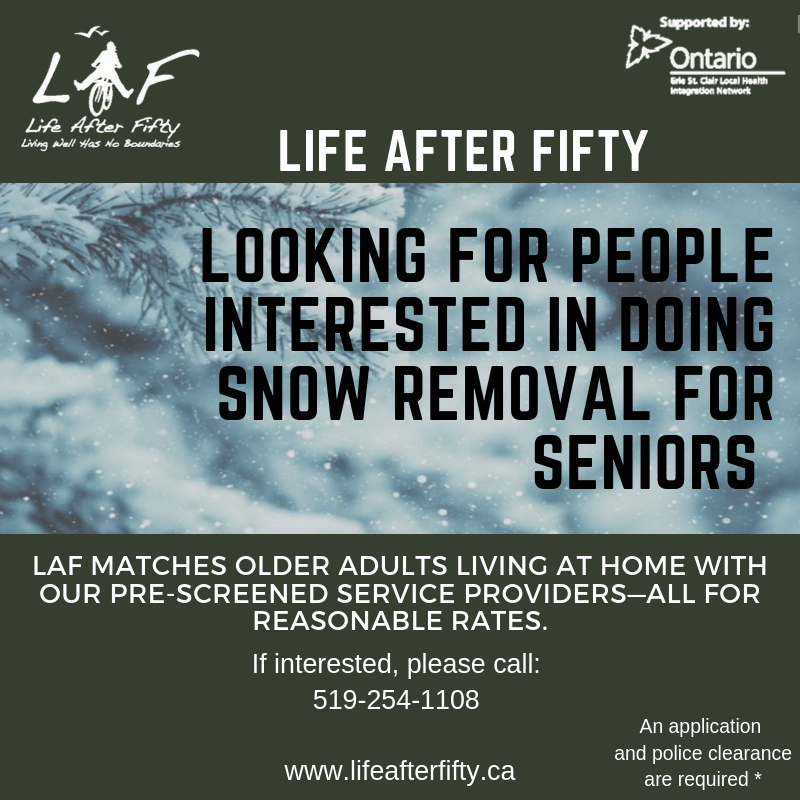 FOR REFERRAL PROGRAM
Life After Fifty operates a Home Maintenance Referral Program that provides indoor and outdoor home maintenance services to frail older adults which allows them to live at home safely and for as long as they are able. We are currently recruiting service providers to provide the following services:
Yard Maintenance (lawn-cutting, snow removal, etc.)

Odd Jobs Indoor and Outdoor (minor repairs, deep cleaning, changing furnace filters, etc.)

Professional home services (with a discount offered for our clients)
Service providers can be individuals, retirees, students or businesses. The Home Maintenance Referral Program sends referrals to registered providers. An application process is required to become a Life After Fifty-authorized provider. For more information about how to become a registered provider in the Home Maintenance Referral Program, call 519-254-1108 x6.

---
RECRUITING STUDENTS
​LIKE TO WORK OUTDOORS?

​LOOKING TO MAKE SOME EXTRA MONEY?

​WANT TO HELP A LOCAL NON-PROFIT?
Life After Fifty (635 McEwan Ave, Windsor) is recruiting students interested in earning $14 an hour to shovel snow, rake leaves, and mow lawns for vulnerable seniors in Windsor through our Home Maintenance Referral Program. An application process and police clearance (ages 18+) is required. For more information please call 519-254-1108.

---
Recruitment/ Employment Accommodation
In accordance with the Ontario Human Rights Code and Accessibility of Ontarians with Disability Act (AODA), Life After Fifty is an equal opportunity employer committed to providing:
Fair and accessible employment practices

Individualized accommodations to support individuals with disabilities

An Inclusive and accessible environment for all persons

A diverse workplace
Should you require accommodation during the recruitment process, please contact the Executive Director at (519) 254-1108 or info@lifeafterfifty.ca
Applicant information is collected under the authority of the Freedom of Information and Privacy legislation and will be used solely for the purpose of candidate selection.