Employment
JOB POSTING
FOOT CARE NURSE (RN/RPN) – (Part-Time - 3 Days/week)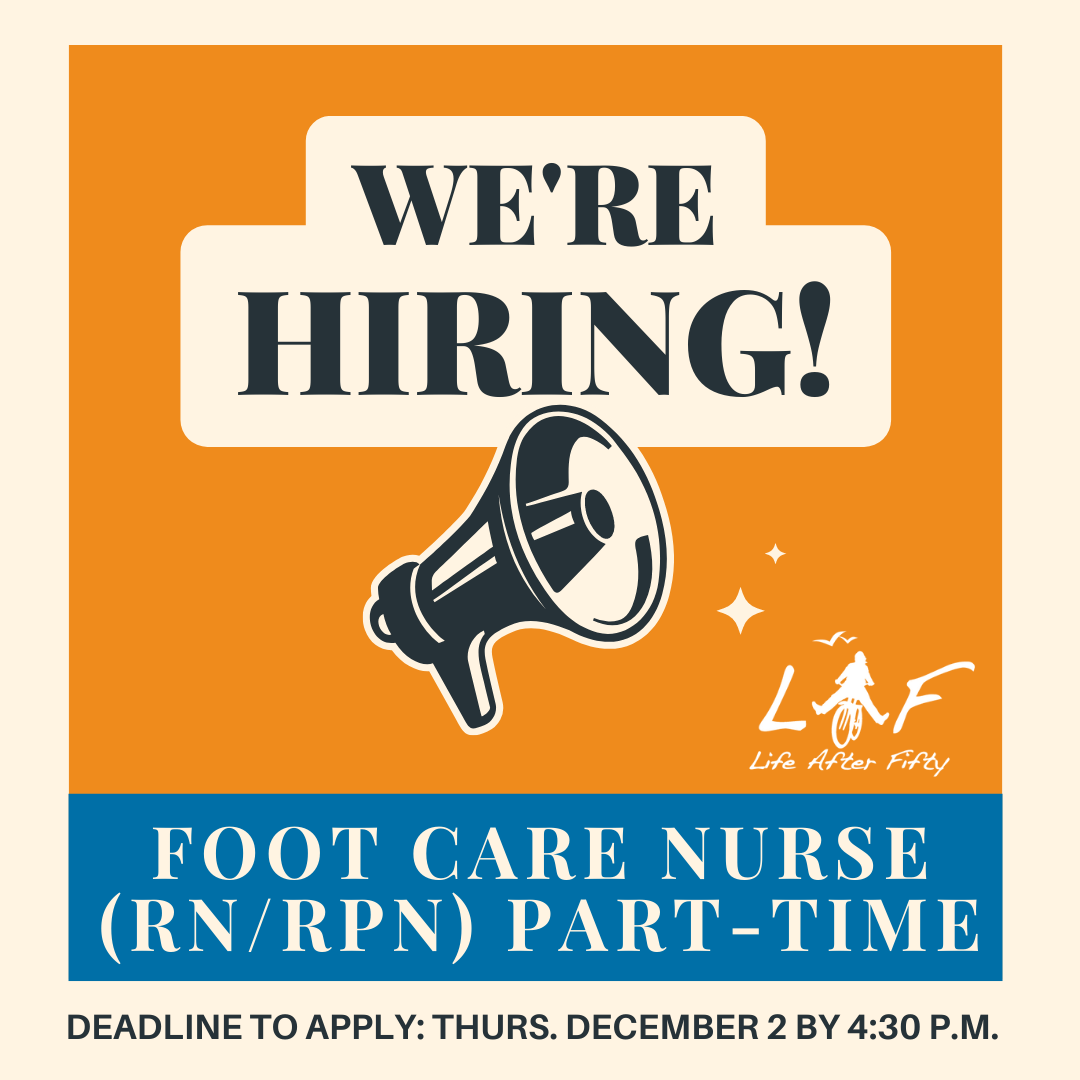 The suitable candidate will have experience with advanced foot care in an appropriate setting in addition to the following:
Current registration in good standing with the College of Nurses of Ontario.

Advanced Foot Care Certification.

Familiarity with Public Health Best Practice Standards for cleaning, disinfecting and sterilization of medical equipment.

Knowledge of Infection Prevention and Control (IPAC) standards and practices.

Knowledge of Best Practice Standards for Hand Hygiene in a Health Care Setting.

Public Health Ontario IPAC and Reprocessing Certification considered an asset.

Demonstrated experience working with older adults

Knowledge of preventative practices for optimum foot health.

Excellent oral and written communication skills.

Excellent attention to detail as it relates to documentation of the client record.

Knowledge of Microsoft Outlook and calendar management.

Ability to sit for extended periods of time.
Full job description and qualifications.
Please submit your cover letter and resume to jcadarette@lifeafterfifty.ca by 4:30 pm, December 2, 2021.
LAF is committed to reflecting the diversity of the communities it serves. We welcome and encourage applications from all qualified candidates. We thank all applicants for their interest; however, only those selected for an interview will be contacted.
---

RECRUITING HOME MAINTENANCE SERVICE PROVIDERS
Life After Fifty operates a Home Maintenance program that provides indoor and outdoor home maintenance services to older adults in Windsor, which allows them to live safely at home.
How it works: Our Home Maintenance program receives a request for service from an interested client (e.g. grass cutting), and are then referred to one of our registered providers. The client will call the provider to arrange the service and will pay them directly upon completion.

We are currently seeking service providers to apply for the following services:
Yard Maintenance (lawn-cutting, gardening/de-weeding, snow removal, etc.)
Odd Jobs - Indoor and Outdoor (minor repairs, light/heavy cleaning, changing furnace filters, hanging curtains, disposing of items, etc.)
Qualified applicants can be individuals, retirees, students or businesses.
An application is required to become an authorized provider of Life After Fifty, see the form below.

For more information about how to become a registered provider in the Home Maintenance Referral Program, call 519-254-1108 x 112, email communitywellness@lifeafterfifty.ca or fill out our application form below:
---
RECRUITING STUDENTS
​LIKE TO WORK OUTDOORS?

​LOOKING TO MAKE SOME EXTRA MONEY?

​WANT TO HELP A LOCAL NON-PROFIT?
Life After Fifty (635 McEwan Ave, Windsor) is recruiting students interested in earning $14 an hour to shovel snow, rake leaves, and mow lawns for vulnerable seniors in Windsor through our Home Maintenance Referral Program. An application process and police clearance (ages 18+) is required. For more information please call 519-254-1108.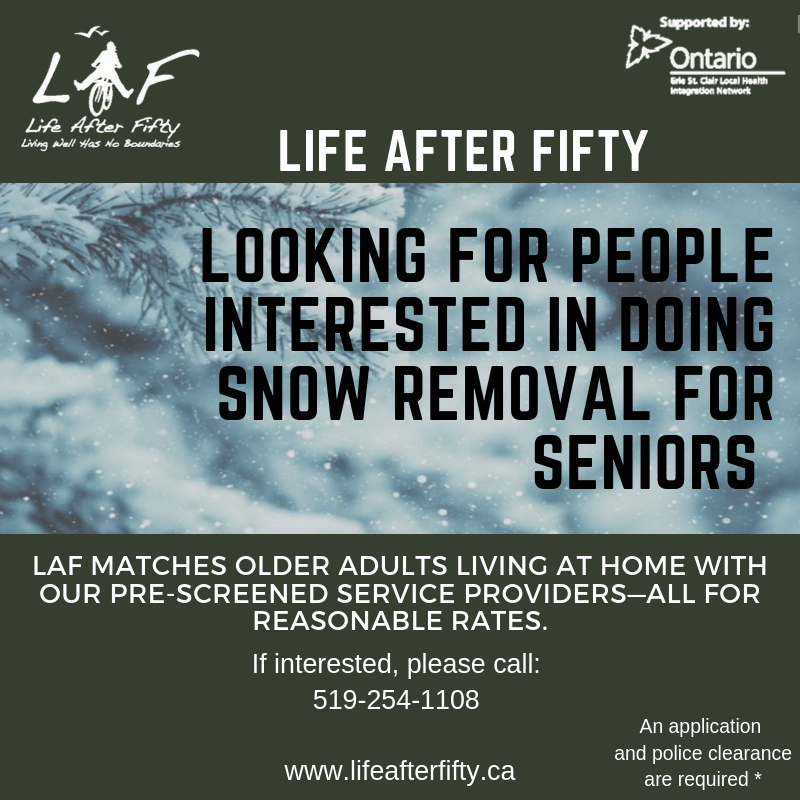 ---
Recruitment/ Employment Accommodation
In accordance with the Ontario Human Rights Code and Accessibility of Ontarians with Disability Act (AODA), Life After Fifty is an equal opportunity employer committed to providing:
Fair and accessible employment practices

Individualized accommodations to support individuals with disabilities

An Inclusive and accessible environment for all persons

A diverse workplace
Should you require accommodation during the recruitment process, please contact the Executive Director at (519) 254-1108 or info@lifeafterfifty.ca
Applicant information is collected under the authority of the Freedom of Information and Privacy legislation and will be used solely for the purpose of candidate selection.