Posted June 22, 2017
Due to Better Living Day, all programs will be cancelled for the day.

Why not join us for Better Living Day instead?

Contact Reception to sign-up (519) 254 1108.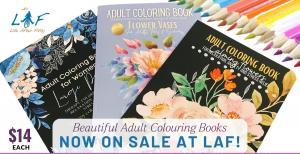 Support LAF!
Beautiful Adult Colouring Books - on sale now at LAF. Proceeds support programs & services. $14/ each.
Read More
Be our Valentine?
Save the date for a fun Valentine's Day pasta dinner & dance! Details to come.
New Programs & Hours
NEW: Fall Programs & Evening Hours! See the current newsletter for details.
Read More
../
https://www.lifeafterfifty.ca/