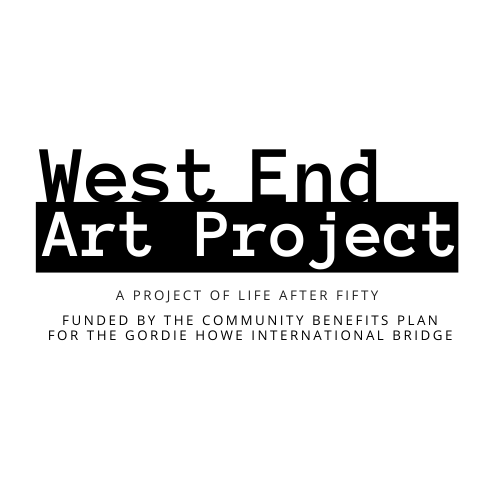 Posted March 05, 2020
West End Art Project
Life After Fifty has received $20,000 to coordinate a community art project funded by the Gordie Howe International Bridge Community Benefits Plan.

This project will embark on a creative journey to connect our region to the potential of the West End - exploring our past, present and future through public art.
Public art has a diverse meaning but is meant to be physically and freely accessible to the public. Public art can embrace art in all forms and is widely understood to have many benefits to communities like:
Creating a sense of identity, uniqueness and civic pride

Improving the quality of the overall environment by involving the community

Celebrating place, historical heritage or particular characteristics relating to the site where the work will be displayed

Goals and objectives
To engage local youth and the surrounding community in the development of a representative public art project that displays the culture and heritage of West Windsor.
This project aims to enhance civic pride as understood by its diverse communities, reflecting the importance of the area from the people living and working in the West End.
Engaging Youth, The Region + Beyond
Documenting the Process

Seeking public participation in the creative process

Gathering feedback regarding site and artist selection

Providing continued promotion and education of the significance of the work

The West End Art Project will accomplish the following:

Public Consultation
Throughout the project, the voices of West Windsor residents will be captured through surveys and public viewings, intending to explore and identify the theme and location of the intended art piece(s). This will also offer opportunities to explore local arts, culture and heritage and assist in identifying project partners.

Artist Selection
A comprehensive call to artists will be issued to the public. There will be an open call for artwork in both form and fabrication, exploring alternative mediums (mobile murals, unique public furniture, technologically-driven art forms, site-specific or otherwise identified). The selected artist(s) must have youth involved in the project. The project coordinator will be responsible for the development of selection criteria to establish perimeters of the intended artwork and narrow submissions feasible to the intended goals of the project. The final artist selection will be coordinated by a public poll.
Artwork Location
To determine the best way to showcase the intended artwork, available spaces will be coordinated by the project leader. The final location will consider the form and fabrication of the art piece. If several options are presented, the intention is to allow for a public survey to determine the final location. In the event that the final art piece is mobile, the public will be surveyed to determine display locations.

Unveiling/Launch Event
A community event with our funders, the Community Benefits Plan for the Gordie Howe International Bridge, will be planned to celebrate the completion of the project, including an extended invitation to the local community, participants, partners and champions.

Follow progress on the project on Instagram at @WestEndArtProject