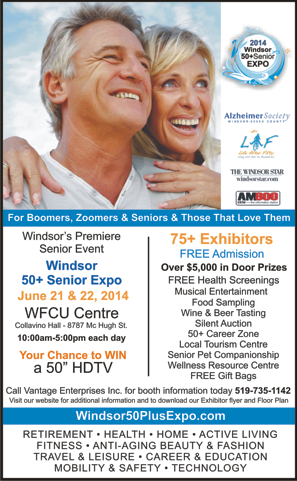 Posted June 21, 2014
Attention Boomers, Zoomers and Seniors!
A new community event called the
Windsor 50+ Senior Expo is taking place at the WFCU Centre on June 21 & 22, 2014.
The expo is also a fundraiser with a silent auction supporting the Alzheimer's Society, Life After Fifty and the Retired Seniors Volunteer Program.
This Expo is a jammed packed weekend of fun and entertainment featuring 75+ Exhibitors with interactive displays showcasing products and services to keep you feeling young, healthy and active.
It's all under one roof…from health, nutrition and fitness to retirement, travel and 50+ lifestyle options.
Enjoy great music, food sampling and cooking demonstrations, wine and beer tasting, free health screenings and over $5,000 in door prizes, gift bags contests and giveaways.
Additional features include a 50+ Career Zone, "Tour Your City" Tourism Centre, a Health and Wellness Resource Centre and a senior pet companionship and adoption program featuring pets from the Windsor Essex Humane Society.
You will have a chance to WIN a 50" HDTV when you register at the door.