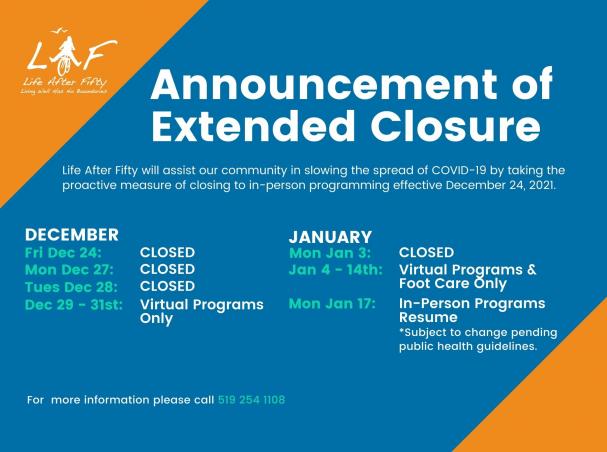 Posted December 24, 2021
Life After Fifty has been closely monitoring the COVID-19 pandemic. The Health and Safety of our members is always our highest priority. The Omicron variant of COVID-19 has begun circulating in Windsor-Essex and the number of cases have the potential to grow quickly. Life After Fifty will assist our community in slowing the spread of COVID-19 by taking the proactive measure of
closing to in-person programming effective December 24, 2021.
Foot Care will continue to be offered and appointments are available.
Life After Fifty will offer virtual programs. Our current programs include:
1.
Seniors' Centre Without Walls
– telephone-based programs scheduled daily with a range of topics and interactive social opportunities. It's a great way to make friends from a distance.
2.
Zoom Programming
– internet-based video classes and workshops featuring our LAF program, fitness or craft instructors. Please see our website for the latest schedule.
3.
Foot Care
– we will continue to offer foot care at this time.
4.