Posted April 17, 2020
We continue to monitor and align with the preventative measures recommended by the Windsor Essex County Health Unit and Ontario's Chief Medical Officer of Health.

Program Changes:
Effective immediately all ON-SITE programs and services at both Life After Fifty locations will be postponed, including Foot Care.
We are also not able to offer our Home Maintenance Referral Program until further notice.

Life After Fifty will continue to provide:
Telephone Assurance Calls - Please contact us or call 519-254-1108, if you are a senior or know a senior who would benefit from a social chat. Callers are screened volunteers and will not ask you for personal financial information.

Our Facebook page:
Check out our Facebook page for creative ways to keep members engaged, connected and active. We will also post important links to community resources.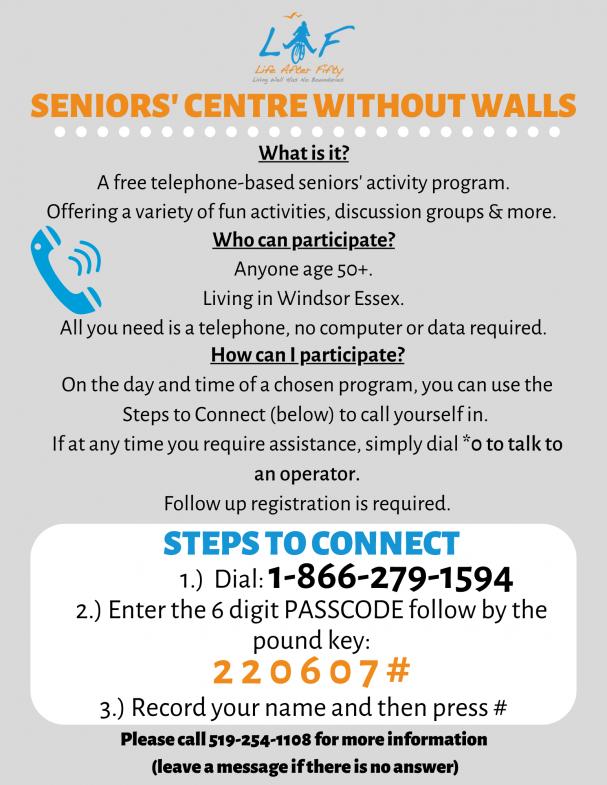 Posted April 09, 2020
A FREE telephone-based program featuring 12 unique programs, click here for the list of programs offered.
Support LAF!
Donations help to offset the cost of activities and help to keep the programs offered affordable for older adults and seniors in Windsor/ Essex.
Read More
Funding Support Provided by
Life After Fifty acknowledges with gratitude funding support provided by GreenShield Canada and the Windsor Essex Commuity Foundation.

This funding supports efforts to re-engage older adults after the pandemic and improve mental health and wellbeing through engagement and physical activity.
LAF Corporate Sponsors
Thank you to our fabulous Corporate Sponsors! Your support is greatly appreciated!
../
https://www.lifeafterfifty.ca/