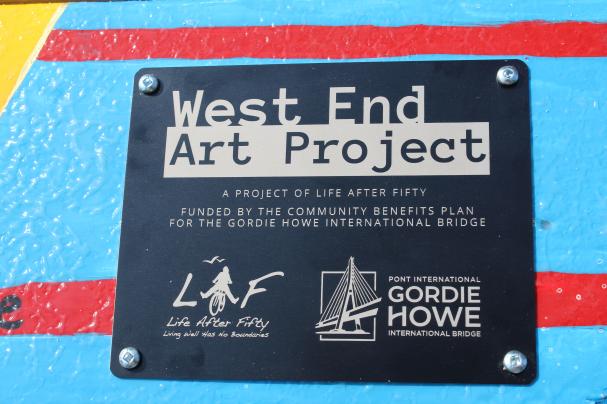 Posted September 25, 2020
Four new public art projects were unveiled today in the west end of Windsor, in the heart of Sandwich Towne.
Working in partnership with Port Windsor, three new functional art projects have been placed in Queen's Dock by local artists. An additional fourth public art piece is now located at the Dominion House Tavern. Through funding provided by the Gordie Howe International Bridge Community Benefits Plan, the new pieces include two new picnic tables and wayfinding signs coordinated by local artists and the youth arts group, Vanguard Collective.
"These beautiful, creative additions to the Sandwich area demonstrate the strong sense of community pride that exists amongst its residents," says Bryce Phillips, CEO of Windsor-Detroit Bridge Authority.
"We are continually inspired by the Sandwich community and are pleased to see the funding provided through the Gordie Howe International Bridge Community Benefits Plan enhance the area's gathering spaces."
Based on the input of survey takers, which highlighted their desire for a functional art project, the following pieces were created:
The piece "All My Relations" represents "the history of Sandwich Towne as diverse as my family tree and the stories they all tell," said the artist, Jessica Rachel Cook, who was born and raised on Windsor's West End.