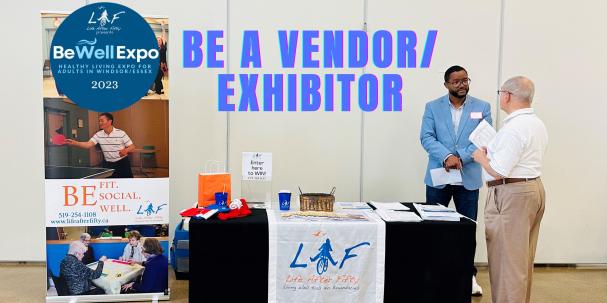 Posted September 15, 2023
CALLING ALL:
Adult sports leagues
Adult fashions
Local fitness options (Yoga studios, Personal trainers, etc.)
Social activities (Hobby classes, coffee shops, etc.)
Wellness vendors (crystals, soaps, candles, etc.)
Wellness service providers (massage, reiki, etc.)
Medical supplies (Walking poles, orthotic inserts, etc.)
Local non-profit organizations offering wellness support services
There are still a limited number of spaces available for Vendors at the upcoming BE WELL EXPO!
Saturday, September 30th 2023 from 9 am– 2pm
Location: Arbor Memorial, Victoria Greenlawn
1525 Hwy ON-#3
Interested? Contact Caitlin Shanahan at
cshanahan@lifeafterfifty.ca
Some important info to take note of:
What is the Deadline to be a Vendor or a Sponsor?:
Thursday, September 14th is the final deadline to be included in the Be Well Resource Guide.
After this date, we can accept a limited number of vendors as per space availability (you will not be listed in the Guide).
What is the Cost to be a Vendor?
$75 for for-profit businesses
$35 for non-profit organizations
$15 for access to electricity (additional fee)
(FREE for attendees to enter.)
Payment is due in full by Saturday, September 30th, 2023.
Hours of the Event
Saturday 9am – 2pm. Please plan to staff your booth for the full duration of the event.
Set up
Friday night 4pm-7pm and/or 8:30am-9am Saturday.
Tear down
Saturday after event from 2-3pm.
How Many People are Expected to Attend the Expo?
As this is the first event of its kind, it is difficult to predict attendance.
Based on our reach, marketing efforts and what is offered, we are aiming for 200 guests (although we are not able to guarantee any minimum number of guests).
All vendors are encouraged to promote the event by means of social media and word of mouth to help increase attendance.