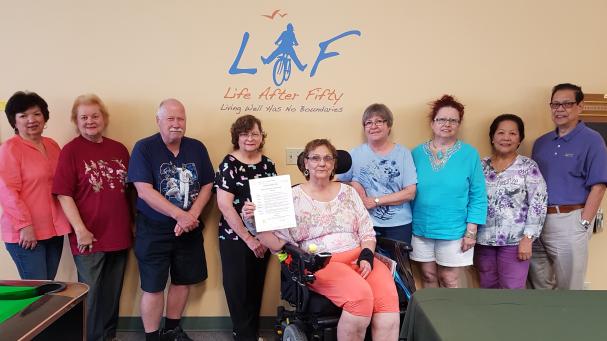 Posted June 02, 2017
Seniors are special, and we have a special month in honour of "us"! June is Seniors Month. Our mayor, Drew Dilkins, has proclaimed the month of June as "Windsor Seniors" Month.
On June 1st, some of our members gathered by the WSC billiard tables to start the celebrations, with a member holding the proclamation for all to see. We also tweeted this proclomation to share our message.
At Life After Fifty, we will be holding some special events to recognize senior contributions including our membership meeting (June 20), LAF Spirit Day Mosaic BBQ (June 21), and Better Living Day (June 22).
For further information about Seniors' Month, please visit the Ontario Seniors' Secretariat website at
www.ontario.ca/seniorsmonth