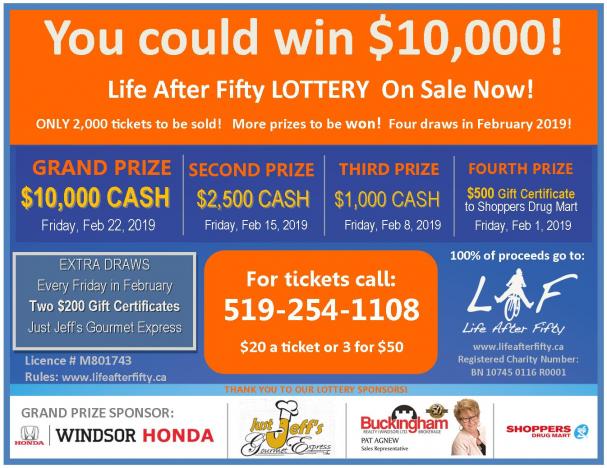 Posted January 31, 2019
Life After Fifty Lottery Rules
On Sale: November 1, 2018 – January 31, 2019, 3:00 p.m.
Grand Prize: $10,000 Cash - Draw Date: Friday February 22, 2019
Second Prize: $2,500 Cash - Draw Date: Friday February 15, 2019
Third Prize: $1,000 Cash - Draw Date: Friday February 8, 2019
Fourth Prize: $500 Gift Certificate to Shoppers Drug Mart – Draw Date: Friday February 1, 2019
Extra Draws Every Friday: Two $200 Gift Certificates to Just Jeff's Gourmet Express
Rules:
A maximum of 2,000 (two thousand) consecutively numbered tickets will be available for sale. Sales will begin on November 1, 2018 and continue until 3:00 p.m., January 31st, 2019.
Each ticket will be sold for $20 each or 3 for $50.
All draws will be held at 635 McEwan Ave. Windsor, at 12 noon each Friday in February 2019.
Prizes totaling $15,600 are to be awarded through random draws (outline above).
Gift Certificate prizes are awarded as presented and are not redeemable for cash.
Winning raffle tickets will be placed back in the container for further draws in the raffle.
Winners' names will be published on the agency website, Facebook page and on bulletin boards, and distributed via e-mail blasts.
Centres for Seniors Windsor shall be responsible for awarding prizes and making all reasonable efforts to contact prize winners by telephone, mail and/or e-mail.
Any prizes that are not claimed shall be secured or placed in safekeeping for a period of six (6) months from the date of the draw. If, at that time, the prize has still not been claimed, the prize shall be donated to a beneficiary approved by the licensing authority.
A neutral third party shall be asked to draw each winning ticket.
No person under the age of 18 will be allowed to purchase or redeem a ticket.
Tickets must be purchased within the Province of Ontario.
Please Gamble Responsibly