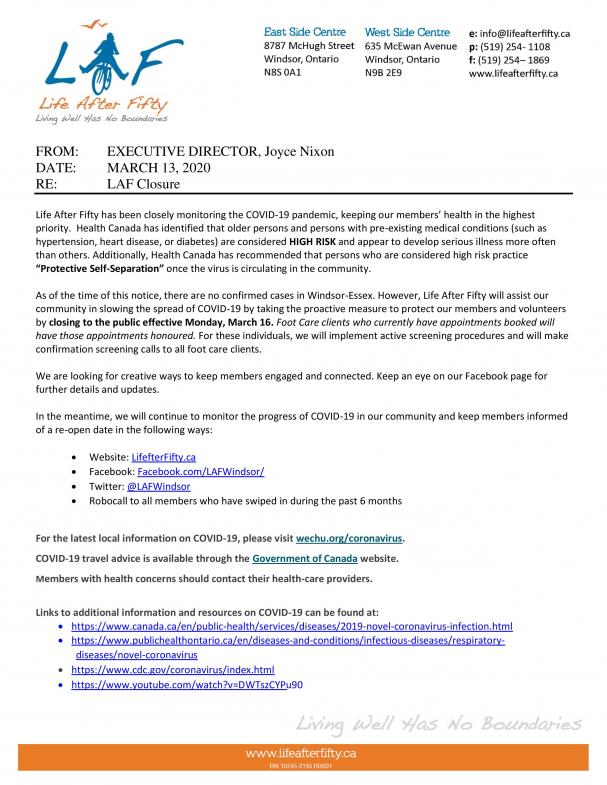 Posted March 13, 2020
Life After Fifty has been closely monitoring the COVID-19 pandemic, keeping our members' health in the highest priority. Health Canada has identified that older persons and persons with pre-existing medical conditions (such as hypertension, heart disease, or diabetes) are considered
HIGH RISK
and appear to develop serious illness more often than others. Additionally, Health Canada has recommended that persons who are considered high-risk practice
"Protective Self-Separation"
once the virus is circulating in the community.
As of the time of this notice, there are no confirmed cases in Windsor-Essex. However, Life After Fifty will assist our community in slowing the spread of COVID-19 by taking the proactive measure to protect our members and volunteers by
closing to the public effective Monday, March 16.
Foot Care clients who currently have appointments booked will have those appointments honoured.
For these individuals, we will implement active screening procedures and will make confirmation screening calls to all foot care clients.
We are looking for creative ways to keep members engaged and connected. Keep an eye on our Facebook page for further details and updates.
In the meantime, we will continue to monitor the progress of COVID-19 in our community and keep members informed of a re-open date in the following ways:
For the latest local information on COVID-19, please visit wechu.org/coronavirus.
COVID-19 travel advice is available through the Government of Canada website.
Members with health concerns should contact their health-care providers.
Links to additional information and resources on COVID-19 can be found at: