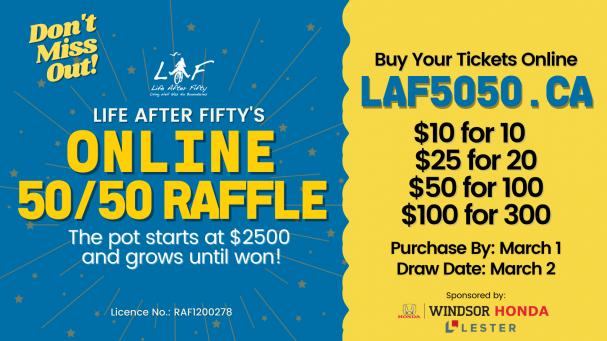 Posted February 01, 2021
The Life After Fifty online 50/50 draw is an exciting venture into a virtual raffle!
BUY YOUR TICKETS NOW!
Yearly, Life After Fifty hosts a paper-based lottery as our primary annual fundraising event but due to the pandemic, like many, we have opted for an electronic raffle. The funds raised will help support the shift to virtual programming and access to low-cost meals for seniors in the Windsor-Essex area. The on-going work has never been more important as the lockdown continues and the dangers of social isolation threaten our most vulnerable population.
"Not being able to hold in-person events makes things much tougher, combined with the fact that there are also challenges that have prevented our usual volunteers from supporting the sales of our paper-based lottery," said Dorothy Davis, chair of Life After Fifty's marketing committee.
"On the bright side, the one great thing about this format, with our traditional lottery there were a limited number of tickets. Now, there is no limit on the number of tickets, which means there's no limit on the jackpot."
With a guaranteed prize of $2,500 and a chance to win 50 per cent of the total money raised, tickets go on sale today at
LAF5050.ca
. Tickets will be sold online in value-added bundles: $10 for 10 numbers, $20 for 25 numbers, $50 for 100 numbers, $100 for 300 numbers. Buying an online 50/50 ticket is a simple process, similar to most online purchases. Ticket sales end 11:59 p.m. March 1 and the winner will be drawn at 10 a.m. Tuesday, March 2 by a computer-based random number generator supplied by a third-party vendor, Bump 50:50.
Enter the raffle today, visit LAF5050.ca to purchase your tickets! You must be 18 years of age to enter and in Ontario at the time of purchase.