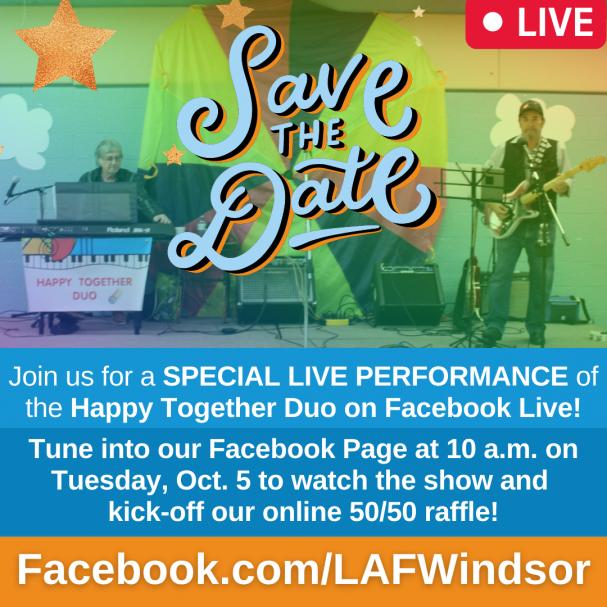 Date of Event: October 05, 2021
Date Ending: October 07, 2021
It's happening again!
Starting Tues. Oct. 5 at 10 a.m., you'll be able to purchase tickets for our latest online 50/50 raffle - this time there's only 50 hours to play!
Everything kicks off with a special video message from our past top lottery ticket seller, Lina Busico and a performance by the
Happy Together Duo at 10 a.m. on Tues. Oct. 5.
on our Facebook Page:
http://facebook.com/LAFWindsor
Make sure you purchase your tickets before noon on
Wed. Oct. 6
because there's a
$500 Early Bird draw at Noon!
The jackpot with a
guaranteed pot of $1500
and the
winner will be announced on Thurs. Oct. 7 - so purchase your tickets before 11:59 a.m. that day!
Both the Early Bird & Jackpot winners will be posted to the Life After Fifty website and Facebook and sent to those who subscribe to
our e-newsletter
.
Throughout the 50 hours, check in to our
Facebook Page
for special video messages, a cooking and craft demonstrations!
Join us for another special musical performance on
Facebook Live
with the
Fresh Breath Band on Wed. Oct. 6 at 6:30 p.m.
- Tune in
HERE
at that time!
We look forward to having you join us and thank you for supporting Life After Fifty!
Life After Fifty's 50 Hour Online 50/50 Raffle
---
Just a reminder, the LAF 50/50 tickets can only be purchased online at LAF5050.ca and you MUST accept the screen prompt to "identify your location" to verify you are an Ontario resident that is 18 years or older. To see how to change your settings, click here.