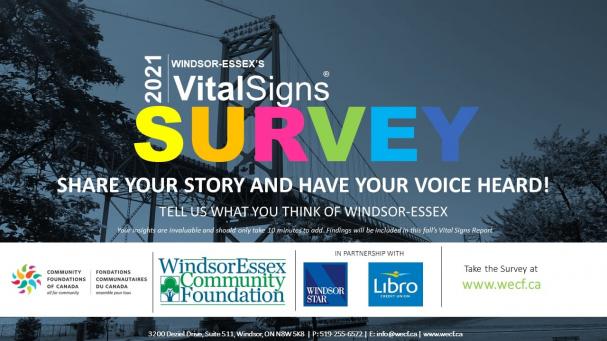 Date of Event: August 03, 2021
Date Ending: August 03, 2021
We're hosting a special presentation with the Windsor Essex Community Foundation to learn more about their Vital Signs survey!
Vital Signs® is a community report that combines national, provincial, and local data with residents' views on important local issues. Released annually, with 2021 being its ninth edition, the survey provides Windsor-Essex residents the opportunity to comment on the quality of life in our region. It is intended for use as a resource to initiate conversation between community members, leaders, and organizations in Windsor-Essex and to inspire change in our community.
Join us on Aug. 3 at 11 a.m. via Zoom
to learn more about what's being asked and what you could potentially win - just by participating!
Open to all residents.
Please pre-register by calling 519-254-1108 or emailing info@lifeafterfifty.ca
Take the Vital Signs Survey
and tell us what you think of Windsor-Essex.