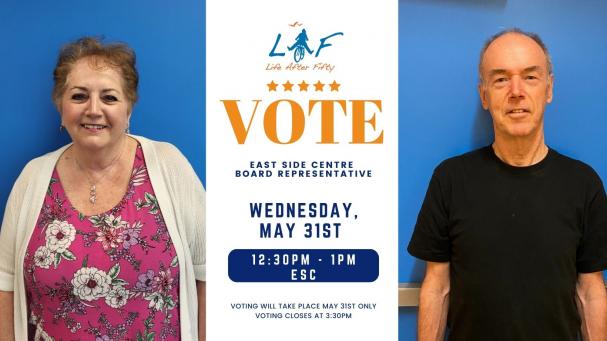 Date of Event: May 31, 2023
Date Ending: June 01, 2023
Meet the candidates who are running for the Life After Fifty - Board of Directors 'Member at Large' position to represent the EAST SIDE CENTRE.

Wednesday, May 31st
12:30 -1:00pm
LAF East Side Centre - 8787 McHugh St. (Inside the WFCU Centre)

East Side Candidates:
- Sheila Davis
- Marty Ryan


LAF Members in Good Standing will be able to:
Hear from both candidates about why they would like to be the ESC 'Member at Large.'
Vote on who should be the East Side Centre representative.

Voting will take place on Wednesday, May 31st only. There will be no advanced polls.