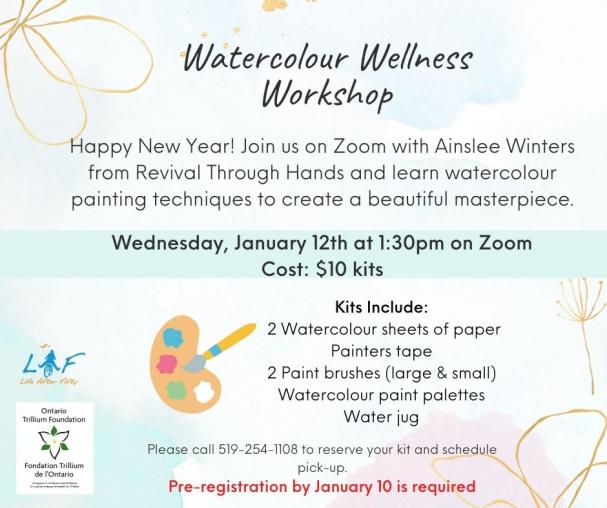 Date of Event: January 12, 2022
Date Ending: January 13, 2022
Well, we might be back in our homes again... but that doesn't mean the fun has to stop! Keep your mind active by learning new techniques and share a few "LAFs" with friends next Wednesday in our online (Zoom) watercolour class!
DETAILS:
- Cost: $10
- Pre-registration by January 10th is required.
- Contact us to arrange a time to come and pick up your supplies at our West Side Centre before January 12th.
This program is presented with funding provided by the
Ontario Trillium Foundation's Resilient Communities Fund.
FUN FACT-
Eden Gallery says: "For beginner painters, watercolor paints are often one of the best mediums. Watercolors are fun, comparatively cheaper than some other mediums, and easier to prepare and work with. Watercolor is also one of the oldest forms of painting. Historians have found that the cave paintings created in the Stone Age Paleolithic period featured ochre and charcoal mixed with water and paints on walls."