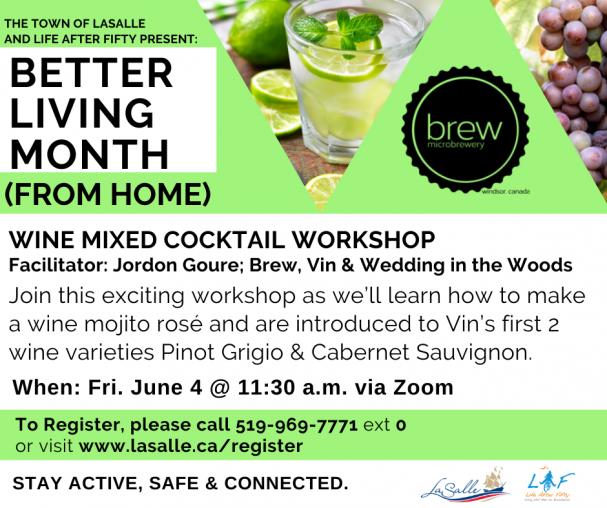 Date of Event: June 04, 2021
Date Ending: June 04, 2021
Join this exciting workshop as we'll learn how to make a wine mojito rosé and are introduced to Vin's first 2 wine varieties Pinot Grigio & Cabernet Sauvignon.
Date: Fri. June 4
Time: 11:30 a.m.
Facilitator: Jordon Goure; Brew, Vin & Wedding in the Woods
We are partnering with the Town of LaSalle to bring you "Better Living Month" from home. This virtual event is FREE for those aged 50+ to explore their passions and discover new ones through a variety of fun workshops.
Join us every Friday in June at 11:30 a.m.:
June 4 - Wine Mixed Cocktails Workshop
June 11 - Piano Concert with Andrea Morosin
June 18 - Geocaching
June 25 - Backyard Birding
Pre-registration is required.
To register or for more information call (519)969-7771 ext. 0 or
register online
.
Your registration confirmation will contain your meeting ID and password for Zoom and the conference call phone line.