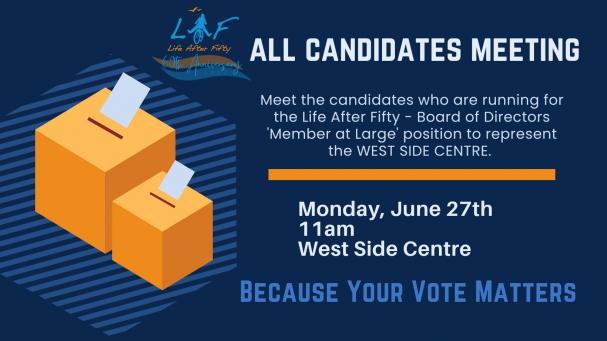 Date of Event: June 27, 2022
Date Ending: June 28, 2022
The LAF Board of Directors needs your help in selecting who your West Side Member Representative will be!
All LAF Members are invited to come out and meet the candidates who are running for the Life After Fifty - Board of Directors 'Member at Large' position to represent the WEST SIDE CENTRE.
CLICK HERE FOR MORE INFO ON THE CANDIDATES
Monday, June 27th
11am

Life After Fifty West Side Centre
635 McEwan Ave.

FREE Coffee & refreshments will be provided.
Voting will take place on Monday, June 27th only. There will be no advanced polls. If you are unable to attend but would still like to vote, please email Janice at jbottrill@lifeafterfifty.ca by 3pm on Monday, June 27th.
Only LAF Members who are in good standing will be eligible to vote.