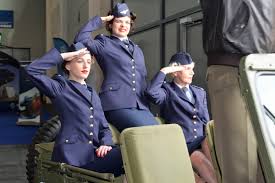 Date of Event: December 08, 2017
Date Ending: December 08, 2017
Boogie, swing and sing along! Remember Vera Lynn, Doris Day, and Glenn Miller?
All the way from the Netherlands, it is the Sgt. Wilson Air Force Show! A night of live entertainment with the sounds of the 40s and 50s. Join us for dinner and a show! Doors open at 5:30. All ages welcome!
Come on and hear...
https://www.youtube.com/watch?v=qxGgZrRW55k
Tickets on sale as of November 1st - Buy at Reception.
Location: West Side Centre - 635 McEwan Avenue
Date: December 8 2017
Times:
5:30 - Doors Open
6:00 - Dinner - Bangers and Mash
7:00 - Show
$20 for members/ $22 for non-members.