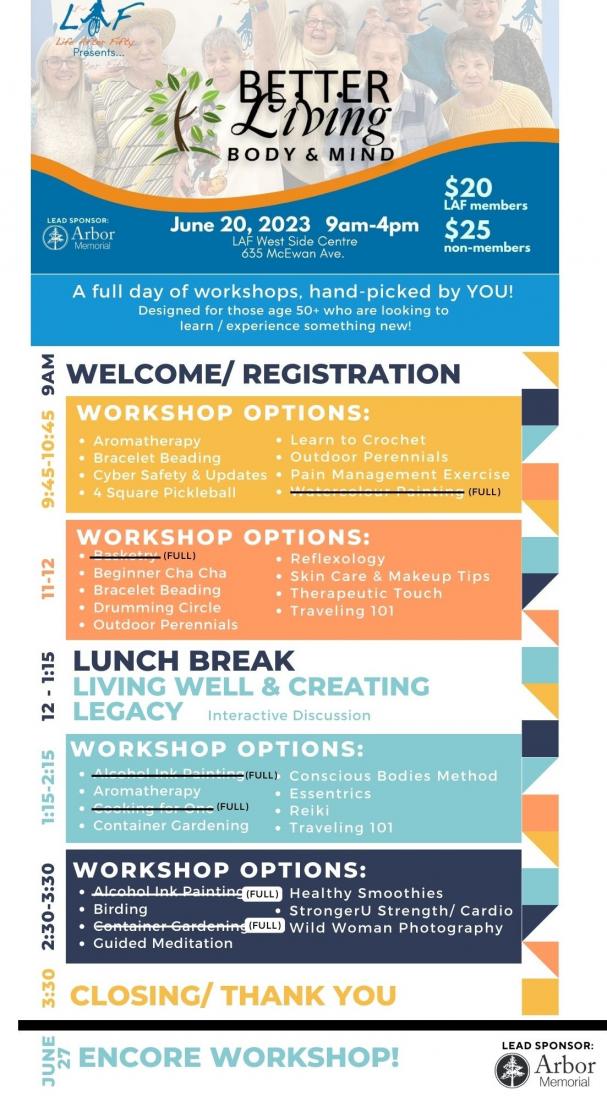 Date of Event: June 20, 2023
Date Ending: June 21, 2023
Join us for a full day of workshops, hand-picked by YOU!
Designed for those age 50+ who are looking to learn / experience something new!
Better Living Day is a full day of fun & informative workshops for those age 50+, providing opportunities to be well, be fit and be social!
All regular LAF programs are cancelled for the day and workshops are hosted in every room of the LAF West Side Centre (635 McEwan Ave.) throughout the day!

Tuesday, June 20th
9am - 4pm
Life After Fifty - West Side Centre, 635 McEwan Ave.

$20/ Life After Fifty Members
$25/ Non-members
Registration fee covers all (4) workshops, materials/ supplies and lunch.

REGISTER:
- In person at either Life After Fifty location
- Or CLICK HERE to register online (for a small additional processing fee)

Workshop Options to Choose From:
Alcohol Ink Tile Painting - (This workshop is now full)
Aromatherapy
Basketry - (This workshop is now full)
Beading: Memory Wire Bracelet
Beginner Cha Cha
Birding for Health & Happiness
Container Gardening - (Workshop full in Session #4)
Conscience Bodies Methodology by Dream Walker Dance
Cooking for One - (This workshop is now full)
Drumming Circle
Essentrics
Exercising for Pain Management
4 Square Pickleball
Healthy Smoothies
Keeping you Updated & Safe in Cyber-land!
Learn to Crochet
Meditation
Outdoor Perennials
Reflexology
Reiki
Skin Care and Makeup Tips
StrongerU Cardio & Strength Combo Class
Therapeutic Touch
Traveling 101
Water Colour Painting - (This workshop is now full)
Wild Women in Photography

Registration: May 30th- June 16th. (First come, first served.)
Register in-person by visiting Reception at either LAF location
Register online HERE (for a small additional fee)
Register via phone by calling 519 254 1108
LUNCH & GUEST SPEAKER INCLUDED:
At noon, everyone will enjoy lunch and some social time to share what you have learned in your workshops so far that day.
Following lunch, everyone will join in an interactive discussion about living well, living with purpose and intentionally creating legacy every day of our lives.
ENCORE WORKSHOP INCLUDED:
All Better Living Day participants are invited to attend an ENCORE workshop - included in your registration fee.
Our Seniors' Month Lead Sponsor, Arbor Memorial, invites you to a workshop on the
Benefits of Pre-Planning
on
June 27th 11:30am - 1:00pm
at their
Victoria Greenlawn location, 1525 Hwy #3, Oldcastle, ON
.
*FREE lunch will be served that day.