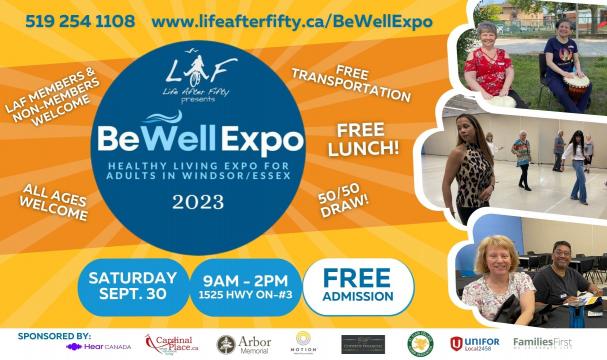 Date of Event: September 30, 2023
Date Ending: October 01, 2023
Join Life After Fifty as we celebrate and share the many ways of living well in Windsor and Essex County!
Date: Saturday, September 30th
Time: 9am - 2pm
Location: Arbor Memorial - Victoria Greenlawn, 1525 Hwy ON-#3

This one-day event will be jam-packed with information + activities including:
Vendor/ Exhibitor tables featuring helpful products + services,
Free class demos (Ex. Drumming, ballroom dancing, zumba, etc.)
Informative presentations (Ex. Downsizing your home, Risks & benefits of cannabis use, Strategies for Self Care, etc.)
Interactive activities, (Ex. Falls prevention screenings, chair massages, flu shots, covid booster shots, oral cancer screenings, etc.)
Fall crafts + jewelry for sale,
Live entertainment, and much more!
Expo attendees will enjoy:
FREE Admission!
FREE Lunch *for up to 200 attendees
FREE copy of the Windsor/ Essex Be Well Resource Guide
(Your guide to being fit, social and well in Windsor/ Essex!)
CLICK HERE FOR THE FULL EXPO SCHEDULE

Optional:
Expo attendees, family members & guests can register for the Wellness Walk, Talk & Stroll
through the beautiful Tranquility Trail along the back of the beautiful Arbor property.
($20 minimum registration fee /per person OR collect pledges for the chance to win prizes!!)