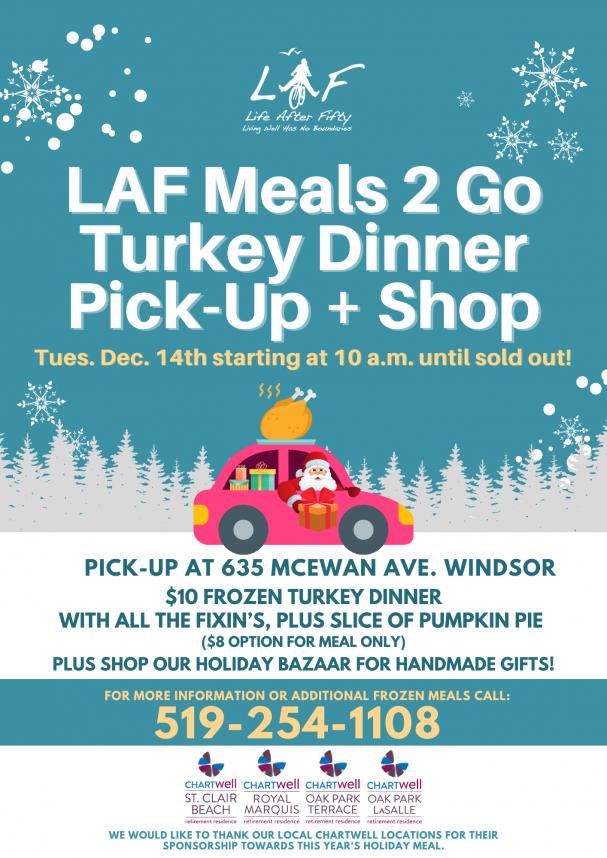 Date of Event: December 14, 2021
Date Ending: December 14, 2021
Holidays around the centre are a little different this year!
Stop by our West Side Centre at 635 McEwan on Tuesday, Dec. 14, starting at 10 a.m. to pick up your holiday meal from LAF's kitchen!
This year it's a $10 frozen turkey dinner with all the fixin's plus slice of pumpkin pie!
While you're here stop by the LAF Crafts + More store because we're hosting our annual Holiday Bazaar featuring handmade goods and gifts made by our seniors.
Browse our handmade crafts, knitted wear, baby items, afghans, hand-sewn accessories ceramics, household items, jewellery and more! Plus this year, we're offering NEW holiday bundle deals and hosting a special online shopping guide with LAF Staff.
100% of the proceeds support the programs and services for seniors in Windsor-Essex!
Stop by between Dec. 1 - 23 or stay tuned to our Facebook Page for special product features.
We would like to thank our local Chartwell locations for their sponsorship towards this year's holiday meal.