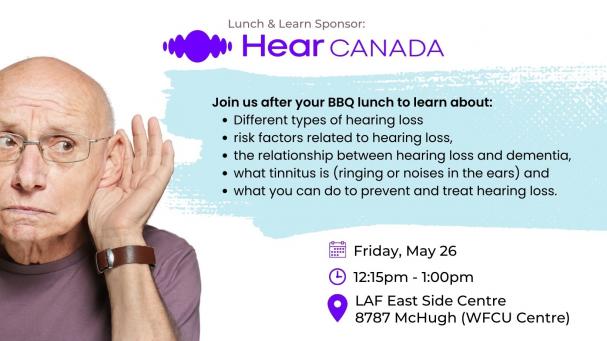 Date of Event: May 26, 2023
Date Ending: May 27, 2023
Did you know that approximate 60% of Canadian's aged 19 - 79 have hearing loss?
Many are unaware, as hearing loss can occur gradually over time, but hearing loss can also be caused by noise, trauma, medications, genetics and disease.
It is recommended that everyone over 60 have a hearing test to serve as a baseline.
Join
Hear Canada
's audiologists to learn about:
the types of hearing loss,
risk factors related to hearing loss,
the relationship between hearing loss and dementia,
what tinnitus is (ringing or noises in the ears) and
what you can do to prevent and treat hearing loss.
Date
: Friday May 26
Location
: East Side Centre - 8787 McHugh St. (WFCU Centre)
Lunch
: 11:30am - 12:15pm, Cost $8
Presentation
: 12:15pm - 1pm, $5 Day pass required if you do not purchase lunch.
Registration is required.